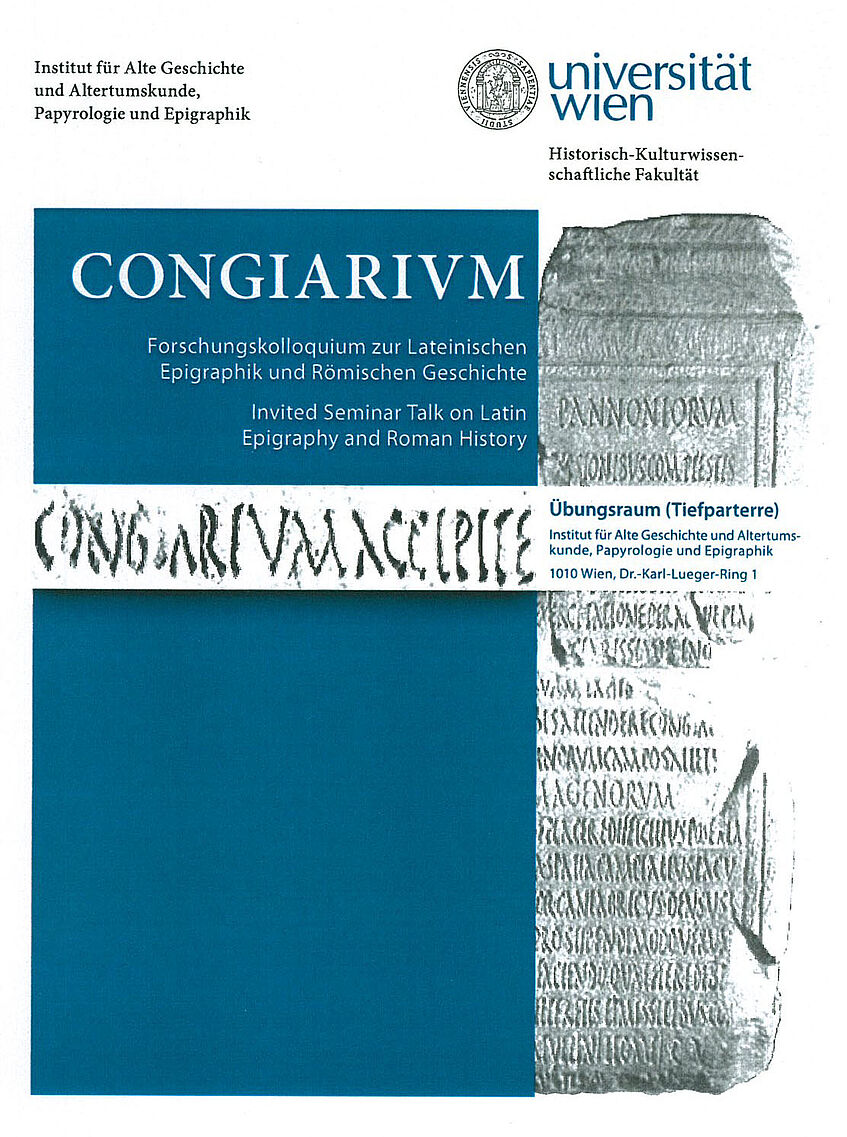 Programme Summer Term 2013:
22.05.2013 | László Borhy (Budapest)
Epigraphisches aus Brigetio (Komárom/Szöny, Ungarn): Neuigkeiten und Probleme
05.06.2013 | Victor Cojocaru (Iasi)
Die Proxenie im pontischen Raum
19.06.2013 | Tanja Scheer (Göttingen)
Erdgeburten. Autochthonie und griechische Vergangenheiten
---
Programme Winter Term 2012/2013:
10.10.2012 | Wolfgang Kuhoff (Augsburg)
Die unendliche Spätantike. Gedanken zu einer Epochenabgrenzung
28.11.2012 | Oliver Stoll (Passau)
Nur scheinbar unscheinbar - big history aus kleinen Inschriften: Zur Neuinterpretation einer Weihinschrift aus der Mosel und ihrer Bedeutung für die Geschichte der Gallia Belgica und der germanischen Provinzen
12.12.2012 | Roger Tomlin (Oxford)
British Curse Tablets
23.01.2013 | Francisca Feraudi-Gruénais (Heidelberg)
Sind Beischriften Inschriften?



---
As the organiser was on leave in the Summer Term 2012, Congiarium did not take place then.
---
Programme Winter Term 2011/2012:
30. November 2011 | Friederike & Ortolf Harl (Wien)
www.ubi-erat-lupa.org: Eine archäologische Datenbank - auch für Epigraphiker
14. Dezember 2011 | Bernhard Woytek (Wien)
Numismatisches zum Trajansforum
18. Jänner 2012 | Jozef Kordos (Trnava)
The short rule of Didius Iulianus in the account of Cassius Dio and the parallel accounts of Herodian and Historia Augusta
25. Jänner 2012 | Éva Jakab (Szeged)
Senecas Mißtrauen in Brief und Siegel: Zur Notarspraxis in neronischer Zeit
---


Programme Summer Term 2011:
16. März 2011 | Joachim Matzinger (Wien)
Die Sprachverhältnise des antiken Balkanraums
Erkenntnisse und Desiderata
13. April 2011 | Jörg Fündling (Aachen)
Hörige Gatten, stolze Väter
Spätantike Familienbilder im Astrologiehandbuch des Firmicus Maternus
04. Mai 2011 |Anne Avrămut und Victor Dumitru (Wien)
Die Geschichte der Daker von Burebista bis Decebal: Quellen und Diskurse
25. Mai 2011 | Olli Salomies (Helsinki)
Lokale Traditionen in der lateinischen Epigraphik
15. Juni 2011 | Ortolf Harl (Wien)
Die Interndetdatenbak ubi-erat-lupa.org: Stand, Perspektiven und Kostproben
---
Programme Winter Term 2010/2011:
6. Oktober 2010 | Ireneusz Milewski (Danzig)
Vom Nutzen der patristischen Literatur für die Erforschung der spätantiken Wirtschaft: Das Beispiel der griechischen Kirchenväter des 4. Jahrhunderts
24. November 2010 | Olivier Hekster (Nijmegen)
Emperors and ancestors. Modes of transmitting imperial ideology
12. Jänner 2011 | David Stifter (Wien)
Gallo-lateinische Inschriften
26. Jänner 2011 | Christian Gugl (Wien)
Die Leugensteine vom Carnuntiner Pfaffenberg: Zu militärischen und zivilen Siedlungsräumen an Legionsstandorten